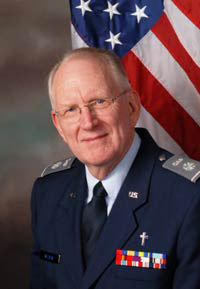 Chapain (Lt Col) Richard Nelson
1286 Discovery St., #57
San Marcos CA 92078
Cell Phone: 619 843-4860

Chaplain Richard Nelson is a native Californian with his ancestors coming from Sweden to California in 1849. Growing up on 300 acres, he attended Yuba City High School, College of San Mateo, The University of the Pacific and most recently Liberty University finishing a M.A. of Theological Studies in May of 2012.
Chaplain Nelson joined the California National Guard in 1956 and during the next 10 years advanced to the rank of Sergeant First Class holding the position of Division Operations Sgt. for the 49th Division Artillery in Stockton, CA.
Influenced by several uncles in ministry, Chaplain Nelson began his service in 1970, holding positions in Sunday School, Jr. High, Music, Christian Drug Center Director, Youth Prison Ministry, Singles Pastor, Prayer Minister, and Teacher. In 2002 he felt the call to minister among men and women in uniform. By August of 2005 he had joined Squadron 47 at Camp Pendleton and received his Chaplain's appointment October of the same year.
Among the members he enjoys being addressed by the less formal title of "Chaps."
Chaplain Nelson has completed all of CAP's Senior Level training, attaining the Gill Robb Wilson Award (#2730), and holds a Master's rating in the Chaplain specialty track. He also holds a Technician rating in Communications, Senior rating in Cadet Programs, and has received the Yeager Award. Other awards include: CAWG Chaplain of the Year (2008,2011); Group 7 Chaplain of the Year (2007, 2010); Commander's Commendations, and The Chaplain Sammy Campos Ministry of Presence Award (a CAWG Chaplain Corps award).
Chaplain Nelson has completed both Basic and Peer Critical Incident Stress Management courses and the Pastoral Care CISM course. He served as the CAWG CISO from 2007-2011. He is qualified as a Mission Chaplain, Mission Radio Operator, MSA, and holds an Amateur Radio Operator (N7RAN) General rating, and volunteers with the San Marcos Fire Department CERT Team.
Chaplain Nelson most enjoys working with Cadets and Emergency Services, and attends as many ILPs and SAREXs as possible. While still working with seniors and other agencies, he feels his most important assignment is being with CAP cadets.
Chaplain Nelson has served as an OES Disaster Chaplain in San Diego for seven years, works with the Red Cross and the Armed Forces YMCA, but still finds time to work on his on his 5th Dan Black Belt in Tae Kwon Do. He is married to Nancy, has five children and nine grandchildren.