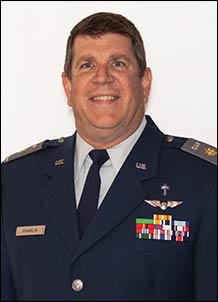 Chaplain (Lt Col) David Franklin
201 E LINCOLN AVE #200
YAKIMA WA 98901
509.952.7125

Ch, Lt Col Dave Franklin was appointed to serve as the WAWG HC in October of 2012 for an interim period.
Chaplain Franklin was the Senior Pastor of Wellington Assembly of God church in Wellington Kansas when a former college classmate and flight instructor introduced him to the Civil Air Patrol. "CAP seemed to a great place to minister with those who loved to fly and also serve as a Chaplain." Dave first came to the local CAP meetings in 1985 and officially joined shortly afterward and became a Mission Pilot and Chaplain. The love for flying and the call to minister have given purpose to the mission of CAP.
Chaplain Franklin graduated from Central Bible College in Springfield, MO and attended the Assemblies of God Theological Seminary. He has pastored in Kansas, Montana and served on ministry staffs in Texas and Colorado. For many years he has served on the National Executive Committee for Royal Rangers, which is an international boys' ministry specializing in 'Mentoring Future Men'. Preaching at boys camps across the nation and around the world has been a great ministry and joy for him.
His professional development achievements within Civil Air Patrol include a Master's Rating in the Chaplain Specialty Track, Senior rating in Operations and the Gill Rob Wilson Award (#2920). He was twice named the WAWG Chaplain of the Year, Pacific Region Chaplain of the Year and National Squadron Chaplain of the Year for 2011.
Chaplain Franklin also serves as a Mission Pilot, Mission Observer, Mission Scanner, Mission Chaplain, has earned the General Charles "Chuck" Yeager Award in Aerospace Education, and holds a Counter Drug rating in Emergency Services. Dave also serves as the Professional Development Officer for the Legislative Squadron in Washington State.
Dave and his wife, Becky, have been married since 1980 and have five children and seven grandchildren. Since 1990 Chaplain Franklin has retired from pastoral ministry and now continues to serve as camp speaker and Training Director with Royal Rangers. He also serves as the President of a nationally recognized Architectural and Engineering firm based in Yakima WA. He leads a staff of dedicated professionals in the design of food manufacturing and distribution facilities and is widely traveled.