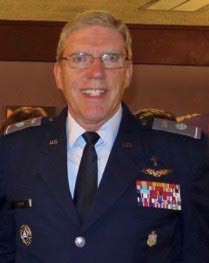 Chaplain (Lt Col) Marvin Owen
Chaplain Owen joined CAP in January 2010 and was appointed a CAP Chaplain in June 2011. Chaplain Owen is the Senior Pastor at First Baptist Church in Florence, Oregon. He is an Army veteran and served in Vietnam. Chaplain Owen earned a B.B.A. degree from The University of Texas at Arlington, an M.B.A. from the University of North Texas and M.Div. and D.Min. degrees from Southwestern Baptist Theological Seminary.
Chaplain Owen's ministry experience encompasses every level from the local church to the national denomination. In addition to the pastorate, he has been a Church Services Director, Director of Missions, State Convention President, Editor-in-Chief of denominational publications, writer, Church Health Strategist and adjunct instructor for Wayland Baptist University.
Chaplain Owen has been an encampment Chaplain and has served on staff at five National Cadet Special Activities including NESA. In addition, he has taught in three Training Leaders of Cadets classes. He is a former Wing Chaplain and has been active in Chaplain events and missions as well as having chaired Oregon Wing's Annual Conference Committee. Since 2013, Chaplain Owen has been the Oral History Program Manager for Civil Air Patrol.
He is a Mission Chaplain, Master Chaplain, and has achieved Level V in CAP's professional development program.
His CAP awards and decorations include the Meritorious Service Award with two bronze clasps, Commander's Commendation with bronze clasp, Achievement Award, Life-Saving Award with silver star, Gill Robb Wilson Award, Paul E. Garber Award, General Benjamin. O. Davis Award with two silver stars, Yeager Aerospace Education Achievement Award, Red Service Ribbon, Search Find Ribbon, Community Service Ribbon with two bronze clasps, Cadet Special Activity Ribbon with four bronze stars, Encampment Ribbon, Senior Recruiter Ribbon and the Membership Ribbon.
Chaplain Owen is a member of the Military Chaplains Association, Air Force Association and is a life member of AOPA and EAA.